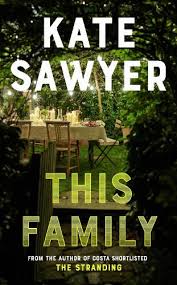 BLOG POST: Anna reviews This Family by Kate Sawyer
This Family by Kate Sawyer
It's a new beginning. She should be happy. And she is. She is. But where there are beginnings, there are always endings too.'
I enjoyed Kate Sawyer's first novel The Stranding, a powerful reimagining of the end of the world but I loved her most recent novel, This Family. Here she kicks back and settles into what she's really good at – the nitty gritty of family life. We love our families but we often despair of them too, and it's this nexus of joy and pain that Sawyer explores with warmth and humour, in piercingly insightful, rich prose.
It's a new beginning. She should be happy. And she is. She is. But where there are beginnings, there are always endings too.'
Mary has raised her family in a house bought largely because she fell in love with the old willow tree in the garden. As she prepares for her wedding, she also prepares to leave this house and memories vie for attention as her children once did.
Mary's family is assembling for the first time in years; her daughter Phoebe with her husband Michael and their young children; her sensitive stepdaughter Rosie with her partner. There's Irene, her strident and unapologetic ex mother-in-law, and Irene's son Richard, Mary's unfaithful ex-husband. Emma, Mary's eldest, who no one quite believed would turn up, is flying in from the US. Even those who could not come are still very much present.
This Family is set over the course of a long, hot summer's day, but moves deftly between past and present to portray relationships that are messy and complicated, but caring. A mother and her daughters are at the centre of the story but we also eavesdrop deliciously on the ebb and flow of long marriages, separations, betrayals and loss. Through the eyes of the different protagonists we explore a series of moments in time when relationships are forged, damaged, broken and remade. There is heartbreak and grief but there is also love overarching all like the branches of Mary's willow tree. There's humour too – families can be petty, silly and cruel – and the kind of tenderness that catches you in the back of your throat.
This Family is about the tensions and the rewards of negotiating life with those we love. Immersive and profound, its characters will remain with you long after you've finished reading.
Anna Johnson 13/04/23
Kate Sawyer will be at Red Lion Books on Saturday 13th May at 3pm