Red Lion BookS
A place to find your next favourite read
Welcome to Colchester's independent family bookshop
Our Story
Love reading?
Escape with a new story
Explore the shelves for our carefully curated stock and the pick of new titles arriving each week
Find Your next Read
Books
Our current favourites
New books to get excited about
What's Been Happening?
Latest News
The latest news and views from between the shelves at Red Lion Books
By Regina Lopez Puerta For the past couple of years, I've been swinging between the world of bookselling and the world of book influencing. They

We received the following message from a young customer who was recently won the 'Top Young Reporter of the Year' award.  Congratulations Rosie It's Rosie,

We are thrilled to have an event scheduled with award winning poets, Rebecca Goss, Emily Hasler and Joanna Ingham Amongst other accolades, Rebecca is the winner
We're On Social Media!
Like. Follow. Share.
Get involved
Our Events
Our events programme moved online for the last eighteen months but once again we are now preparing to welcome you back to physical events at the shop. Events will be posted below as they are announced.
YA Book Club:
THE COCOA BOOKCLUB (Age 18-25)
monthly event
Monthly event – Daytime Book Club:
APPETITE BOOK CLUB Daytime Event (Age 18+)
11.30am at various venues
Writing Club Club:
Hosted by Revival of The Arts
monthly event
Saturday mornings
St Botolph's Street, Colchester CO2 7EE
St Botolph's Music Society
Concert Elgar Cello Concerto
3rd February 7.30 pm
View All
Contact Us
Need Advice? We're Experts At Pointing You In The Right Direction To Continue Reading Books You Love!

Book Clubs
are a place to share your enthusiasm for books and reading. We host a range of book clubs for adults and children.
Find Your Club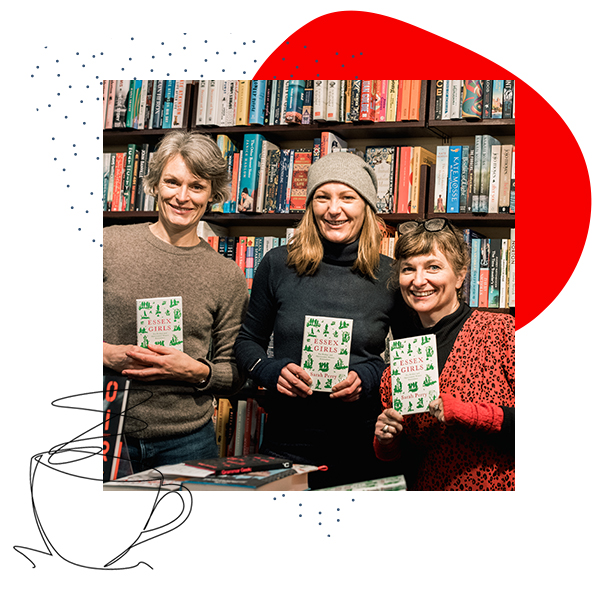 Are You A Local Author?
We work with local authors in many ways and enjoy supporting the vibrant writing and author community in and around Colchester

Reviews
What Our Customers Say
At Red Lion Books every customer counts and we will always do our very best to help you find the book that is perfect for you. Here are some reflections from our customers.
An independent book shop with an excellent selection of titles and authors. An informative and friendly staff with an easy to navigate selection of books. Highly recommended.

Stephen Gibbs


30/12/2022
Nice independent book shop on Colchester High St. Worth finding. Good selection. Enthusiastic staff. Go there

A King


11/11/2022
I have been shopping at Red Lion Books for decades. It doesn't matter if I go into the shop, ring them up, or contact them online, I always get the same terrific service. The people there are knowledgeable, efficient, good humoured and helpful. I cannot count the times they have gone beyond just good service but added a little extra. During the lockdowns they were exceptionable and their attention to my requests helped keep me and my family sane. I cannot recommend them too highly.

dingdong


17/07/2023

Accreditation & memberships
Experienced & Certified