LEONARD AND HUNGRY PAUL by Ronan Hession
Leonard and Hungry Paul takes you on a gentle stroll through the lives of two quiet, unassuming but far from insignificant individuals. The main characters are mid-thirties, living with their parents and their idea of a good social evening is to play a board game or two. These placid, "nice" outsiders are often overlooked by society and disregarded to the point of insignificance.
But, to dismiss Leonard and Hungry Paul is to miss out on their refreshing, if not popular, 21st century philosophy. As the book unfolds we experience Leonard's tentative steps into the world of love and Hungry Paul's organic journey towards the culmination of his unique ideology. Along the way we experience their many acts of small kindnesses, honest revelations and, at times, frankly stark observations. Their delightful interaction and relationships with parents, siblings, work and friends drives the novel's storyline.
With an exquisitely light touch, the author unfolds their lives, allowing us to admire their selflessness and individuality. As Leonard says he doesn't really understand the "rules" and "anyone can deliver the right line. But that's not real. That doesn't prove anything. What matters is what a person is really like." In our current world of succinct sound bites, rapid social media likes and Instagram hits, this is a refreshing approach amidst the maelstrom of our modern world.
This is a book to linger over, to savour and enjoy in a quiet corner, the outside world forgotten. As you near the end you may wish you could dwell a little longer in the thoughtful, humble, "quiet" lives of Leonard and Hungry Paul, rather than re-join the loud, didactic society outside your door and ask yourself who can really change the world?
£8.99 Paperback, Bluemoose Books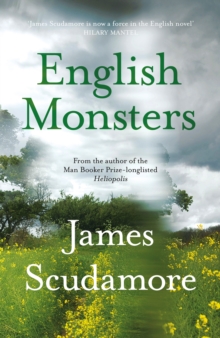 ENGLISH MONSTERS by James Scudamore HB £16.99
'James Scudamore is now a force in the English novel' Hilary Mantel'
Breathtakingly good. Imagine Edward St Aubyn writing The Secret History and you'll get an idea of how exquisite and compelling this story about male friendship and betrayal is' Alex Preston, Observer – *Fiction to Look Out for in 2020*
When ten-year-old Max is sent to boarding school, his idyllic childhood comes to an abrupt end. Away from the magical freedom of his grandfather's farm, a world of unfathomable rules and arbitrary punishment awaits.
But so too does the companionship of a close-knit group of classmates. Years later, as Max and his friends face down adulthood, a dark secret from their schooldays is revealed, drawing them together in unforeseen ways. Who knew what, and when? And who is now willing to see justice done, regardless of the cost to themselves? Spanning several decades, English Monsters is a story of bonds between men – some nurturing, others devastating.
It explores what happens when care is outsourced in the name of building resilience and character and presents a beautiful and moving portrait of friendship.
THE MIRROR AND THE LIGHT by HILARY MANTEL
Despite rebellion at home, traitors plotting abroad and the threat of invasion testing Henry's regime to breaking point, Cromwell's robust imagination sees a new country in the mirror of the future. But can a nation, or a person, shed the past like a skin? Do the dead continually unbury themselves? What will you do, the Spanish ambassador asks Cromwell, when the king turns on you, as sooner or later he turns on everyone close to him? With The Mirror and the Light, Hilary Mantel brings to a triumphant close the trilogy she began with Wolf Hall and Bring Up the Bodies. She traces the final years of Thomas Cromwell, the boy from nowhere who climbs to the heights of power, offering a defining portrait of predator and prey, of a ferocious contest between present and past, between royal will and a common man's vision: of a modern nation making itself through conflict, passion and courage. Harper Collins HB rrp £25. Our price £22