HERE IS THE BEEHIVE by Sarah Crossan
How can we lose someone the world never knew was ours? How do we grieve for something no one else can ever find out? In her desperate bid for answers, Ana seeks out the shadowy figure that has always stood just beyond her reach – Connor's wife Rebecca. Peeling away the layers of two overlapping marriages, Here is the Beehive is a devastating excavation of risk, obsession and loss.
CUSTOMER REVIEW: I really enjoyed this book and the new perspective it brought to the table and was instantly drawn to the synopsis. Often I find affair books very romanticised but I found this reflective, emotional book very readable. The book flits between past and present and the narrator (Ana) processes both the past and the present, as is often evident in the grief process. I found it easy to read, once I had got used to the verse style, which was new to me as a reader. I enjoyed how the characters on multiple sides of the affair itself and storyline developed, both not knowing anything of the husband's 'other life'. CUSTOMER REVIEW BY ABBY SAINTY
£12.99 Hardback BLOOMSBURY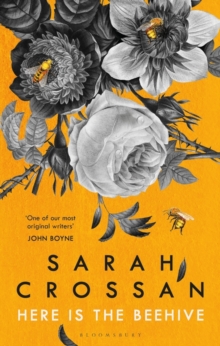 Playwright PAUL T. DAVIES reviews three novels on the Women's Prize for fiction 2020 shortlist
LACK OF LIVE THEATRE MEANS YOU CAN FIND DRAMA IN NOVELS
This is a difficult time for everyone, and for people who love and work in theatre, there is little clarity or guidelines yet as to how to bring live performance back safely. In this extended interval, it took a while for me to get into a mindset where I could concentrate and lose myself in a book, but now reading for pleasure has become an essential part of my week. Three books that deal with theatre and performance in three different ages have really enthralled me. Here are my thoughts:
HAMNET by Maggie O'Farrell
Part of Shakespeare's mystique is that very little is known of his actual life apart from the plays and the records left, that of births, marriage and deaths. Even less is known of his wife, Anne, as she is known to us, but named as Agnes in her father's will, and that is who she is here. What is known is that they had a son, Hamnet, who died in Stratford, Warwickshire, in the summer of 1596 aged just 11. O'Farrell takes these few facts and spins a remarkable tale celebrating a young life, the strange marriage of his parents, and, although the cause of Hamnet's death is not listed, here it is the Black Plague that takes him away, and the novel keys into our Covid days in an accidental and pertinent way.
It is his twin sister, Judith, who is struck by the plague first, and the novel opens powerfully with Hamnet trying desperately to locate somebody to help, his mother is over a mile away tending to her garden of medicinal herbs, his father is in London. The era is powerfully imagined, the desperation of the young lad gripping. In alternating chapters, we go back to the beginning of Will and Agnes's relationship, the cruelty of his father, the glove maker, and Will's tentative steps into theatre and London. Agnes, a child of nature, herbalist and mystic, knows that he is meant for a different life than the one in Stratford. But she feels abandoned, especially when Hamnet dies, the grief of the parents beautifully written. You may have heard about the chapter where we follow the flea that boards the ship in Alexandria, that brings the disease to the Shakespeare household- this is bravura writing, a lifting of the reader out of the story's timelines, demonstrating the speed and effectiveness of epidemic and plague.
Shakespeare never referred to Hamnet directly in any of his work, no sonnet or play. But, four years later he wrote Hamlet, the L and N being interchangeable in this era. Shakespeare is a supporting actor for much of the novel, Agnes and her children are very much centre stage, he is often a troubled and troubling figure. O'Farrell brilliantly brings their worlds together in the final section, when Agnes travels to London to confront Will, and sees a performance of Hamlet. Here is her husband's grief in play form, holding a mirror up to her sorrow. Certainly, the best novel imagining Shakespeare and his world that I have read, except it to dominate at literary prizes this year.
ACTRESS by Anne Enright
In keeping with the theme of theatre, fame and its effect on family, Enright's beautifully written and funny novel is the story of Irish theatre legend Katherine O'Dell, as told by her daughter, Norah. The relationship between fame and reality is often a contrasting one. After early film stardom in Hollywood, Katherine's career is charted mainly through the highs and lows of London and Dublin theatre, and a TV commercial she will always be remembered for. Of course, the work becomes more sporadic, but Katherine's life becomes a continuous performance, the public must never see the despair and austerity of her life.
I have sometimes found Enright's work a little dour, but there's a good seam of humour running through the book, perhaps because I know people like Katherine who live in a star spangled past of long ago and mainly forgotten work. Norah also observes her mother with wry humour, despite her frustrations with her. Then, in her declining middle years, Katherine commits a senseless crime, and the novel racks up a pace or two as Norah tries to find the reason for this act, and to find out the identity of her father.
Enright perfectly captures the style of mid twentieth century drama and acting, and this is an evocative book about the grubbiness of glamour, the myth of fame, and the impact a life of performance can have on mental health.
GIRL, WOMAN, OTHER By Bernardine Evaristo
Bringing us up to date and slightly into the future, Evaristo should have won the Booker Prize outright last year. Much as I enjoyed Margaret Atwood's The Testaments, it's a much more traditional read than Evaristo's dazzling time structure and the cast of characters. For theatre lovers, the novel begins at the National Theatre with the opening night of Amma's play, The Last Amazon of Dahomey. We come to realise we are in the future, because the new Artistic Director of the National is a black woman, and she has commissioned the play, rescuing Amma from years of starving in squats, forging her creativity, but nonetheless outside of the mainstream and kicking against it. The opening night of the play is spookily accurate, I have, as a theatre critic, been to many first nights where the luvvies are in full screech, the smiles false and the applause from friends of the cast and creatives louder than the general publics. (How I miss it!) I also thoroughly enjoyed the story of Amma's life on theatre's fringes, the jealousy from her former colleagues, who inform her she is "selling out", and the struggle to make theatre more diverse is a real one.
It's perhaps for other readers to talk about the feminist content of the novel, it was the theatre angle got me into the book immediately. Although I have talked here about performance, the book is concerned with truth, and feature twelve very different people, mostly women, mostly black. The family tree and the backward structure of the story makes wonderful connections and truths, and the strength of biological and alternative families shines through. It's funny and contemporary. A moving look at Britain's past, and deserved the prizes heaped on it.
GIRL, WOMAN, OTHER by Bernardine Evaristo
Girl, Woman, Other is a freewheeling, ambitious, cacophony of female voices that reveals the realities of race, identity and womanhood through the interwoven stories of twelve women. A co-Booker Prize Winner 2019, it tells the stories of among others, LaTisha a young black woman with attitude who drops out of school, Carole a high flying banker who rejects her past, Amma a lesbian playwright who fights against the establishment, Morgan a non-binary campaigner and Shirley an unfulfilled schoolteacher. It is easy to categorise this book as a fierce novel about black women and their families, "a breath-taking symphony of black women's voices" says the Washington Post. But, this book goes deeper; it spans continents and generations and shines a light on domestic violence, controlling partners, isolation, the loneliness of motherhood and fears of non-conformity. If it has a downside, it is that occasionally the characters can feel like convenient constructs, but even so, the experiences of those characters take us far further than womanhood. This is a novel about humanity and with its free-flowing, page-turning style, it is well worth a read. CUSTOMER REVIEW by Katharine Mahoney
£8.99 paperback Penguin
I AM DYNAMITE! A life of Friedrich Nietzsche by Sue Prideaux
Dictators and demagogues have a long history of misappropriating the works of others, in order to support their deranged projects – often putting aside the fact that the original creations say something clearly in contradiction to their aims. The German philosopher Friedrich Nietzsche has been one such victim of this practice. Having witnessed the continuing decline of Christianity, he boldly and most famously proclaimed that God is dead and invites us to consider how to construct a morality outside the Christian tradition, and indeed whether any morality is capable of general application. Flowing from this was his idea of the Übermensch, concerned with the individual's need to question received values and attain new freedom. The Nazis later corrupted this idea, to fit it to their ideology of racial superiority and eugenics.
In reality, Nietzsche was anything but a German supremacist and indeed came to loath war. The villain of the piece is his sister Elizabeth who exploited her brother's emerging fame and late success, parading herself in the glamourous salon she created for the great and good; while Nietzsche prowled and howled alone in an upstairs room, his mind disintegrating. It was her selective editing of his works and biography, in line with her own antisemitism and triumphalist nationalism, that resulted in the false picture many have of Nietzsche and his works and in his posthumous adoption to their cause by the Nazis.
Sue Prideaux's energetic and wonderfully accessible book sets the record straight. She takes us through Nietzsche's early years of academic success, his complicated relationship with Wagner (another victim of misappropriation), the years of wandering, and the desperate tragedy of his descent into madness. The latter saw him transition from a quiet and unassuming man, tormented by ill health, who charmed those he met, into a crazed and deluded phantom. Prideaux focuses on the story of the life rather than on an exposition of Nietzsche's thinking, though there is enough of the latter to give a flavour of the challenges he sets us and to whet the appetite for learning more. She gives us an enlightening and compassionate account of a man driven to challenge radically the prevailing values of his time and who anticipated many the controversies of our own. CUSTOMER REVIEW By Ken Smith
£10.99 Paperback Faber
A THOUSAND SHIPS by Natalie Haynes
A Thousand Ships begins with the voice of Calliope, the muse of epic poetry but this is not to be the expected tale of the fall of Troy through the eyes of the men, warriors, kings and gods of Ancient Greece and Troy. Natalie Haynes gives a much-needed voice to the "silenced women of the Trojan War", that history has more or less ignored. As she moves us through the wonderful stories of these mothers, daughters, wives, sisters, queens and goddesses we feel their despair anger and sorrow but there is also humour.
The women's individual stories interact with each other as we watch Troy burn. Ancient Greek history is brought to life as we move between the characters. I found myself particularly looking forward to the letters from Penelope to her husband Odysseus as she sits weaving, running a kingdom and fending off young suitors for 20 years! Her slightly tongue in cheek comments, coupled with growing despair and frustration, made me laugh out loud in places. I loved A Thousand Ships and am really pleased that Natalie Haynes has "sung of the women, the women in the shadows" as we all know, " war does not ignore half the people whose lives it touches". CUSTOMER REVIEW BY Katrina Webb
£16.99 Hardback Mantle
THE CITADEL by A.J Cronin
Written in 1937, it helped shape the foundation of the NHS, as it follows a newly qualified GP through the inequalities of private health care. Although it slightly loses its power when he leaves the Welsh Valley, his pursuit of money and success exposes a corrupt system, until he realises, in a shocking and brilliant finale, how he, and the system needs to change. This book has never been so relevant, get it from Red Lion Books! CUSTOMER REVIEW BY Paul T Davies
OUTLINE by Rachel Cusk
Depicting ten conversations had by our esteemed narrator, the name of which we only find out at the end of the novel, OUTLINE is a novel without a plot, or rather without a start and an end. The novel begins with a woman on a plane travelling to Athens to teach creative writing and follows her lucid thought process and conversations with various people in her path – neighbours on planes, fellow teachers, friends from previous trips – leading us to see her reality of family, loss and love through her dialogues in classes and dinners and times swimming and sailing during a beautifully hot summer in Athens. And it ends, well does it end or does Cusk just set us up for the next two in the trilogy – TRANSIT and KUDOS – I for one am ready to find out. Customer Review by LOUISE BARNES
£9.99 Paperback FABER & FABER
We asked Liz Trenow, author of UNDER A WARTIME SKY, to review what she has been reading during isolation
OUT OF DARKNESS, SHINING LIGHT by Petina Gappah
"I love reading (and writing) historical fiction because it can bring history alive in ways that non-fiction can never achieve. It is not slavishly bound to the historical record – usually the record of educated, powerful and usually male characters – and leaving the author free to explore lesser-known aspects of history through fictional or sometimes real but minor characters.

Out of Darkness, Shining Light relates the strange and intriguing story of how the corpse of the Victorian missionary explorer David Livingstone, having died from malaria before finding the source of the Nile, was carried 1,500 miles to the coast ready for transporting back to Britain. It is told through two first-person voices: Livingstone's loquacious cook Halima and his pompous servant Jacob Wainwright. Through their eyes, we learn so much untold history of colonial Africa, the slave trade and the "Nile madness" that led Livingstone to blunder through the continent propelled by the conviction of his own white superiority.

If this sounds bleak, there's plenty of humour here too – Halima's observations of the way women were treated as concubines is pithy and entirely without self-pity. Jacob Wainwright, a Christian convert, is so pompous and self-deluding that you immediately sense the contempt of his fellow travellers. There's not much plot but this hardly matters because the characters are so lively and powerful they remain with you long afterwards, along with a heightened understanding of a heart of darkness very different from but just as dark as Joseph Conrad's. An extraordinary, and rewarding read." REVIEWED BY LIZ TRENOW

£16.99 Hardback Faber & Faber
UNDER A WARTIME SKY by Liz Trenow
My latest novel, published by Pan Macmillan just before the lockdown was also inspired by a real but little known story: how in 1936 a small team of scientists were locked away in top-secret in a Gothic mansion on the Suffolk coast, charged by Churchill with inventing a 'death ray' that would stop the German airforce overwhelming Britain.
I too chose to tell it through the eyes of two contrasting individuals: a shy but brilliant, part-Indian boffin and a young local girl employed as a kitchen assistant at the Manor. As always, the narrative is driven by real people and real events – I was helped enormously by the Bawdsey Radar Trust which has an oral history library of people involved at the time. Bawdsey is a very special place with an intriguing history, and I hope you enjoy reading this novel as much as I loved researching and writing it.
Liz Trenow is a former journalist and now a best-selling historical novelist. Her work has been translated into eleven languages and is published all over the world. She lives in Colchester and her 300 year silk weaving heritage has inspired several of her novels. You can find out more about her books at www.liztrenow.com, at facebook.com/liztrenow, or on Twitter @liztrenow
We asked Sarah Armstrong, author of 'Wolves of Leninsky Prospekt', to review what she has been reading during isolation
ENGLISH MONSTERS by James Scudamore
"English Monsters is one of those novels that sweeps through the decades. Max's idyllic time spent with his grandfather contrasts with the austere brutality of boarding school – so far, so familiar, you may think, but Scudamore's interest is in the grey areas and this is where questions are formed which draw us in. Even in the openhearted love of his family, there is recklessness, as Max falls into icy lakes and is pulled behind a van on his sledge around fields. Childhood, wherever it takes place, is dangerous. And adulthood is where memories can become unreadable over time:
'I stayed to watch the ash settle and flurry, the material finding its place in the world. Then the rain set in and thumped it all to sludge.'
In one of the cover quotations, Alex Preston compares this novel to both The Secret History and Edward St Aubyn, and these are exactly the names I had in mind as I read. Its scope and clarity felt reminiscent of Donna Tartt, transferred to the awkward affection and absurdity of English private schools. It also touches on the brutality of Patrick Melrose's world, but without the cruelty which underpins those novels.
This is a wonderful and generous novel about love, forgiveness and living. I rarely re-read books (there are just too many out there), but this deserves a second reading." REVIEWED BY SARAH ARMSTRONG
£16.99 Hardback, fiction, Vintage
WOLVES OF LENINSKY PROSPECT by Sarah Armstrong
This thriller brilliantly evokes 1973 Moscow and a world of diplomacy and counter-espionage. Escaping failure as an undergraduate and a daughter, not to mention bleak 1970s England, Martha marries Kit – who is gay. Having a wife could keep him safe in Moscow in his diplomatic post. As Martha tries to understand her new life and makes the wrong friends, she walks straight into an underground world of counter-espionage. Out of her depth, Martha no longer knows who can be trusted.
£7.99 Paperback, fiction, Sandstone Press
LEONARD AND HUNGRY PAUL by Ronan Hession
Leonard and Hungry Paul takes you on a gentle stroll through the lives of two quiet, unassuming but far from insignificant individuals. The main characters are mid-thirties, living with their parents and their idea of a good social evening is to play a board game or two. These placid, "nice" outsiders are often overlooked by society and disregarded to the point of insignificance. But, to dismiss Leonard and Hungry Paul is to miss out on their refreshing, if not popular, 21st-century philosophy. As the book unfolds we experience Leonard's tentative steps into the world of love and Hungry Paul's organic journey towards the culmination of his unique ideology. Along the way, we experience their many acts of small kindnesses, honest revelations and, at times, frankly stark observations. Their delightful interaction and relationships with parents, siblings, work and friends drive the novel's storyline. With an exquisitely light touch, the author unfolds their lives, allowing us to admire their selflessness and individuality. As Leonard says he doesn't really understand the "rules" and "anyone can deliver the right line. But that's not real. That doesn't prove anything. What matters is what a person is really like." In our current world of succinct sound bites, rapid social media likes and Instagram hits, this is a refreshing approach amidst the maelstrom of our modern world. This is a book to linger over, to savour and enjoy in a quiet corner, the outside world forgotten. As you near the end you may wish you could dwell a little longer in the thoughtful, humble, "quiet" lives of Leonard and Hungry Paul, rather than re-join the loud, didactic society outside your door and ask yourself who can really change the world? CUSTOMER REVIEW BY Katharine Mahoney
In the midst of our noise and alarms, this book comes as a joyous celebration of quiet. It takes us into the lives of two friends who find it impossible to meet the expectation the world has of them. And though it may seem that little happens, the events that befall them – for one a romance, for the other a role which brings new status – are, for all their everyday nature, transformational. Leonard, feeling that his world is shrinking, wants to make it larger; for Hungry Paul, the world has always
been too big and he prefers to stand back, doing no harm. Each of them makes their case, Leonard revealing to his new-found love his bafflement at how to be with her; Hungry Paul explaining to his sister that she need not rescue him from himself; while at the core of the book is the friends' acceptance of each other. All this could easily fall into sentimentality but throughout the writing has a precision and humour that captures brilliantly the paradox of not being able to connect with others while being able to look at them and yourself with the sharpest of lenses. In a world that can be
very cruel to people like Leonard and Paul, this is a book full of light and kindness. CUSTOMER REVIEW BY Ken Smith
£8.99 Paperback, Fiction, Bluemoose Books